Many people in the business of sheet metal profiles face the common problem of corrosion of metal roof edges. Over some time, corrosion reduces the quality of the sheets, breaking down the existing coating which serves as a protection at the sheet's edges. Seamsil helps treat the corrosion and rust at the cut edges.
Perhaps, you do not even know what it means when your metal sheets start degrading. Cut edge corrosion is the most common issue when it comes to rust on sheet metal roofs, this article will give you an understanding of the problem and how to get rid of it with seamsil. Read on to learn everything about corrosion at your metal cut edges, and how to apply the seamsil treatment.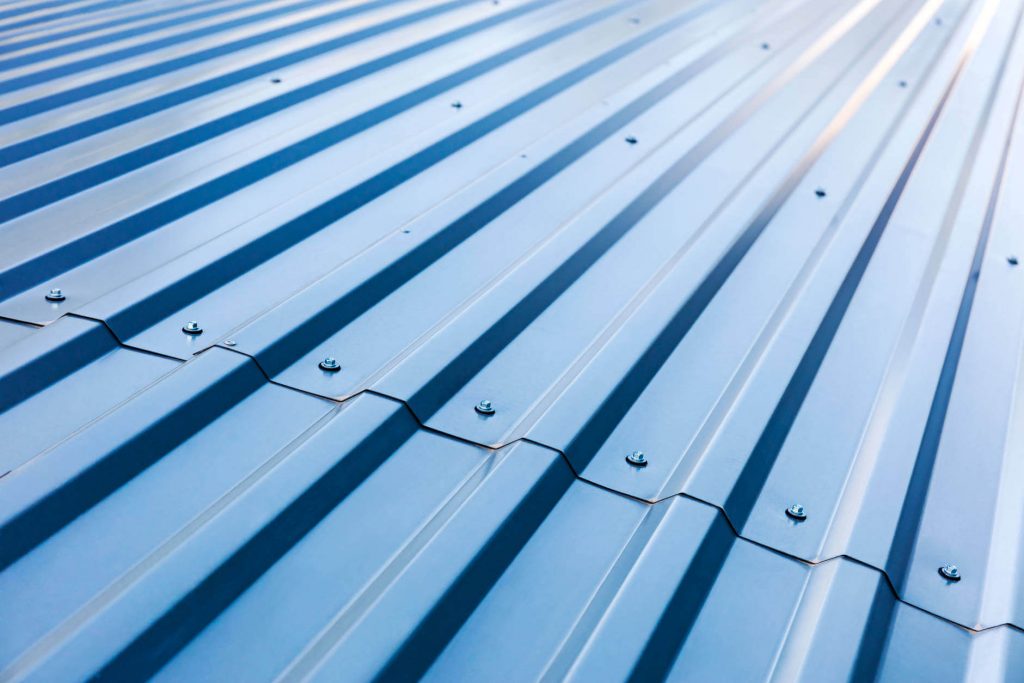 What Is Cut Edge Corrosion?
If this is your profession, you will be familiar with coating your cladding sheets when they are produced. Doing so will prevent the elements from damaging them. Then when you cut these sheets to size, you may typically not recoat the edges, leaving them prone to corrosion. This may result in leaks and you may after that need to replace your cladding panels.
The Problem Of Cut Edge Corrosion
In recent times, the quality of coating used on metal profile sheets has significantly improved. However, the issue of deterioration and delamination of the layers is a constant danger to the integrity of roof performance and structure. Also, the overlapped joint and cut edge remains particularly vulnerable to corrosion. This is because of the impact of capillary action attracting rainwater, which is contaminated with sulphur.
---
---
Cut edge corrosion starts from the metal roofs edges where water cannot flow. This makes it hard for the rainwater to evaporate. Eventually, the "trapped water" starts to dissolve the zinc layer, which serves as a protection. As a result, corrosion creeps in and lifts the coating applied by the factory (PVC/PVF2).
The problem of edge corrosion is progressive and, if you ignore it, can begin from the metal's cut edge.
The corrosion first destroys the gutter overhang and the covered ap joint. Before you know it, you may be saddled with expensive and extensive sheet repairs, since the quality of the roof has been tampered with. Soon, you will be left with an unsighted roof, damaged with corrosion lines across the joints. And, you get random rust stains along the whole surface.
How To Recognise Edge Corrosion on a Metal Roof Edge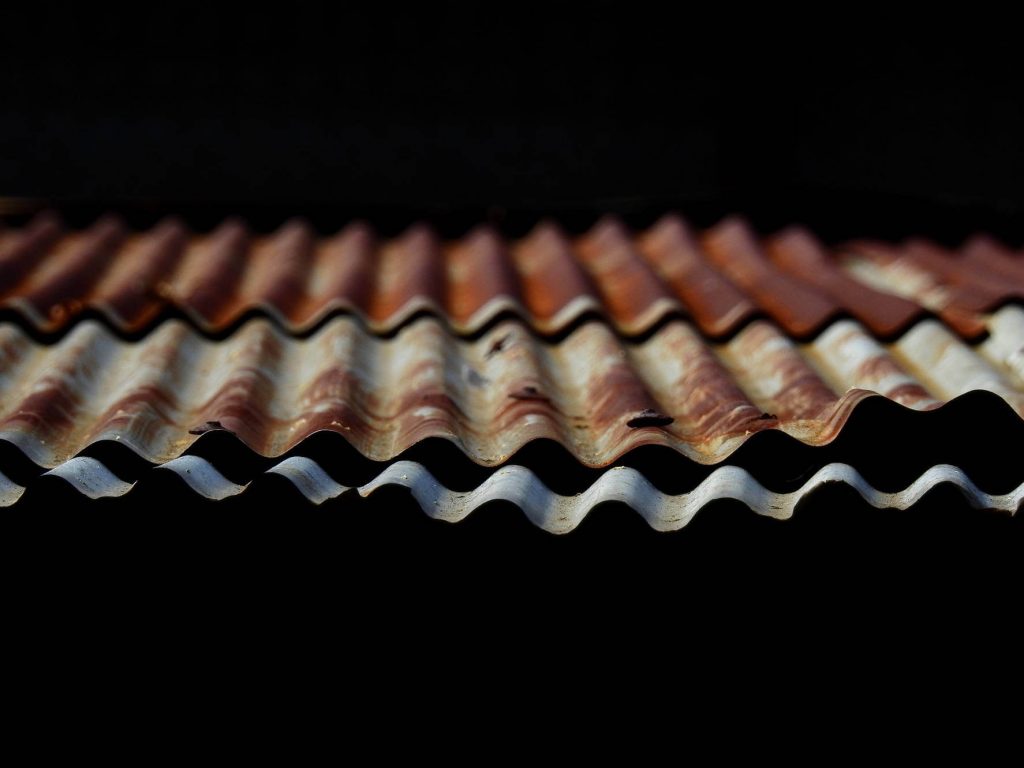 To identify when you have cut edge corrosion on your metal sheets, watch out for discolouration, cracks, or blisters on your roof. Be particularly mindful of the joints and laps around the structure. When you notice these signs, then you may want to contact a professional to be sure about the problem.
Detecting the rust on your sheet metal roof in good time is vital. If you leave it untreated, it may swiftly progress further in its damage to the metal. It will even cause cosmetic issues for your roof, including crisp sheets and leaks. It may eventually diminish the strength of your building.
Lack of detection and treatment may lead to a total re-roof in some cases. As experts in the industry, we would recommend that you take an annual roof survey within a Planned Preventive Maintenance (PPM). Doing this will help you know the condition of the roof in good time.
What Causes Cut Edge Corrosion?
Of course, this is not something that occurs out of the blue. There are some factors that you can watch out for to prevent this problem. The long duration of performance of the coatings on your profile metal cladding and roofing depends on certain elements. They are:
Moisture
Location
Sunlight and UV radiation
Pitch
The quality of the applied coating
Although UV radiation is a dominant factor, they all play a part to determine the extent of corrosion on the cut edges.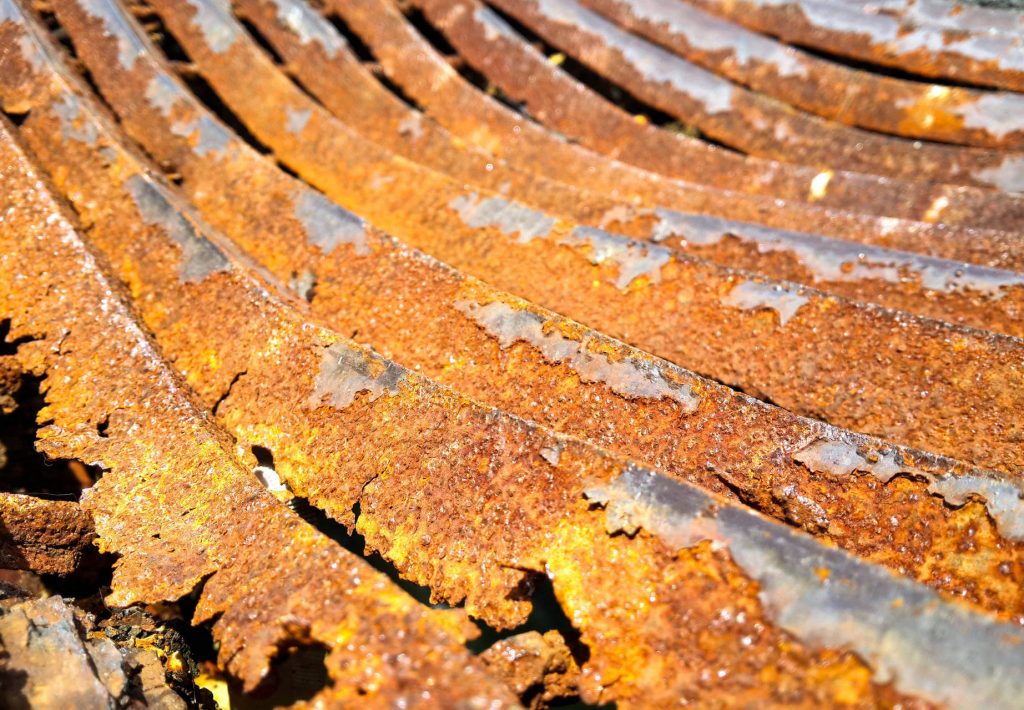 Repairs For Edge Corrosion And Cladding Renovation
When repairing edge corrosion, you can increase the lifespan of your sheet metal roof panels & preserve the metal roof edge. Fixes and improvements include:
Removing any corrosion and loose paint by grinding the panels with your hands.
Preparing the surface and washing down the high-pressure
Applying sealant with a gun to fill any gaps on the panels.
Coating the clad
Cut Edge Corrosion Treatment Methods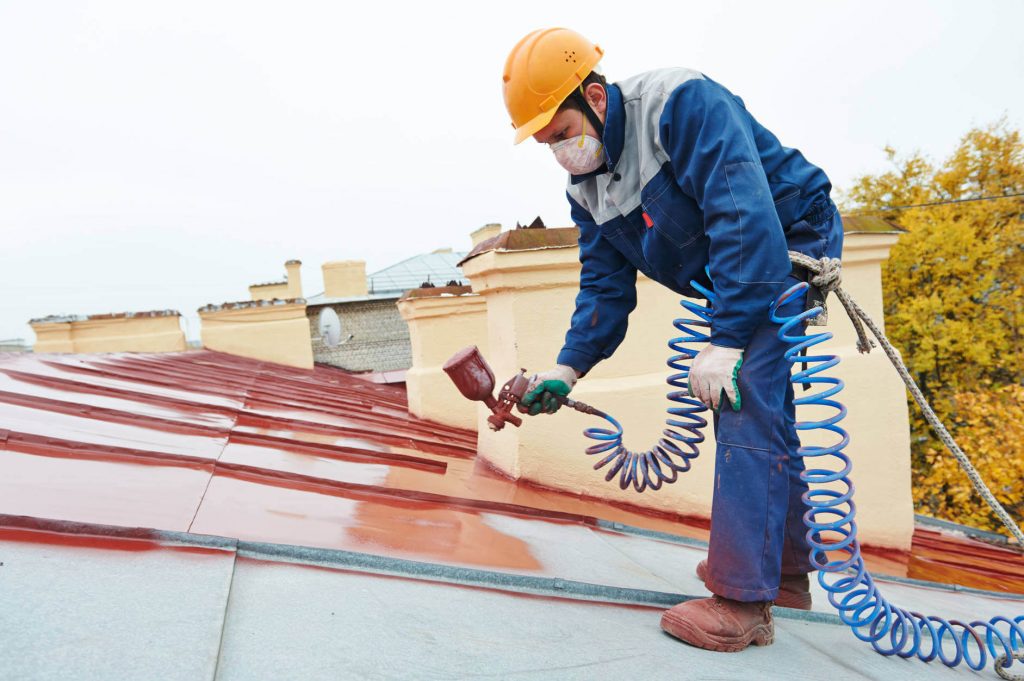 Contractors often use similar treatment techniques across the board when treating a rusty sheet metal roof. There are top manufacturers of protective coatings for the control of metal roof corrosion. Using the methods available, the contractors can apply a new, durable and entirely anticorrosive system.
Consequently, you get a fully re-waterproof and re-coat building. Some of the methods for treatment to prevent corrosion of you metal roof edge are cladspray solutions and seamsil.
Cladspray solutions are systems that provide on-site treatment for edge corrosion. It mechanically removes the corrosion and recoats all the damaged edge laps. It offers another anticorrosive and watertight coating.
Seamsil is a system of metal protection which helps to provide efficient long-term solutions to corrosion problems at cut edges. It also protects overlap joints on every type of profiled metal sheetings. Seamsil is a restorative treatment based on silicone. The producers of seamsil formulate it precisely to correct the negative impacts of rust.
Furthermore, seamsil fixes industrial pollution and chemical corrosion at the cut edges. It is especially useful in coastal/marine environments. It completely arrests the destroyed lap joint area by preventing further inflow of water. Hence, seamsil offers ultimate protection against imminent cut edge corrosion.
Under the seamsil system of treatment methods, we have the encapsulation seamsil silicone system and the colors seamsil system.
A. Encapsulation Seamsil Silicone System
This kind of seamsil system properly treats corrosion problems. Its solution prepares and cleans the surfaces thoroughly. It is a seamsil seal that provides tight elasticity to carefully encapsulate the damaged area resulting from the cut edge corrosion. This is to avoid further destruction.
The encapsulation seamsil silicone system uses GE technology, which assures long life. It is unaffected by extreme temperature and weather, and UV radiation. The silicone systems possess excellent flexibility and elastic features to withstand regular surface movements. This makes sure of consistent optimum performance, with no exceptions to aggressive environments.
B. Colours Seamsil System
This overlap and edge protection system is seen in many colours to fit natural shades that industrial claddings use. A silicone system does not have self-cleaning features or degrade by chalking. It is a compound polymer variation of silicon, seen in the sand. Its principal properties are:
It is a water repellant seal
It has a primerless adhesion
It remains flexible and tough
It is UV and weather resistant
It has a proven corrosion resistance
It has durable protection in encapsulation and elasticity
Preparation And Reverse Side Corrosion
For the past two decades, some systems of cut edge corrosion have been occasionally used on PVC plastisols. Many of these systems are based on silicone technology. If the repair method you choose is not breathable, there is a possibility that the release of water has occurred beneath the roof sheets. Moisture can then gather right above the cut edge where the joint is sealed in reflux and detail.
At the same time, the metal sheet cools and heats from direct sunlight. Corrosion of the cut edge enhances from the opposite side of the roof sheet. This kind of corrosion is quite hard to treat, as there is no way to reach and prepare. The signs for this corrosion are:
Corrosion blisters are visible in the metal sheet above the joint, generally before the initial cut edge repair.
Current cut edge repair is seen, but rust stains are dripping from such repair
In critical cases, the sheet will be completely corroded.
For the sake of safety, if you note any of the signs above, then you should not approach such roof area. This is due to the risk of the roofing sheet falling off when you least expect. The only option for treating this damage is for you to either re-sheet or remove and replace the bottom edge of the metal sheeting.
When working on this kind of corrosion defect, it is essential to analyse the objectives. Do you desire a protective treatment to protect against edge corrosion of your metal roofing? If so, apply a system that would not seal the joints. If you expect a full waterproofing treatment, then you should plan to reconstruct the metal profile sheet.
Do not hesitate to speak to the specialists at Tritek Building Contractors, we provide our clients with advice on cut edge corrosion treatment, such as seamsil, and with high standards too! We thrive on absolute and applaudable customer satisfaction. This is why we will go the extra mile for you.
Maybe you are not confident that your roof needs cut edge corrosion treatment. If so, do not bother. Get in touch with us, and we will inspect it, and give you the best suggestions on what to do. Contact us today!
---