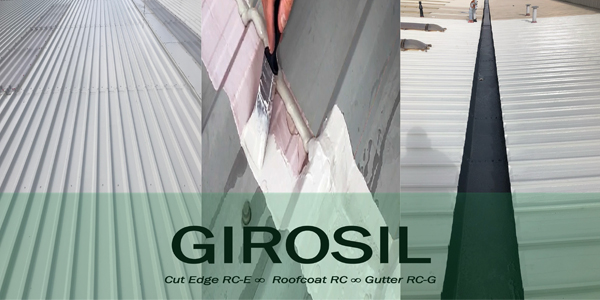 GIROSIL® is the revolutionary next generation of coatings from Giromax. Its hybrid technology harnesses the benefits of silicone and urethane to provide a solvent free, fully moisture tolerant coating that remains flexible, UV resistant, temperature stable and impact resistant for decades.
Using laminar flake technology for matchless corrosion control, GIROSIL® is now offered for all Giromax treatment specifications, including Cut Edge Corrosion, Gutter and Profiled Metal and Asbestos Cement Sheeting.
Laminar Flake
Standard Pigments suspended in paint are spherical, allowing free passage of moisture.

By contrast, incorporated in the coating, overlapping laminar flakes align parallel to the substrate to create an almost impossible track for air and moisture penetration, providing a barrier that prevents further corrosion.
Tritec Building Contractors Ltd has completed a number of projects using the new Girosil® systems and we have been very impressed with the end results as well as our Clients. We continue to work closely with Giromax offering our input and advice on how the Girosil systems are performing. At Tritec Building Contractors Ltd we like to offer our clients the very best products on the market and we believe Giromax's Girosil system is a fantastic product that we are excited to work with for a long time to come.
Girosil Explained?
Girosil is an amalgam of silicone and urethane, which makes it 100% solvent free. It creates a moisture tolerant coating that's impact resistant, flexible and resistant to UV radiation, weather and temperature variations. The coating therefore retains long lasting flexibility, adhesion and substrate protection without cracking or peeling.
Laminar Flake Explained
Standard corrosion treatment systems are constructed with spherical pigments suspended in the paint. This allows an undesirable amount of moisture to penetrate the system in very wet conditions. That moisture will often travel all the way down to the substrate, eventually resulting in further corrosion
However, with Girosil this is not the case. Due to the new revolutionary overlapping laminar fakes that are incorporated in the coating, it's almost impossible for moisture to get through. The flakes align in parallel to the substrate sealing and bonding with the corrosion to create an impenetrable barrier against air and moisture.
Where to use Girosil?
Girosil is designed to treat cut edge corrosion, metal guttering and steel or asbestos profiled roof sheets and wall cladding. It is primarily intended for use as a protective shield against the elements on commercial roof systems. It can be applied in dry or wet conditions due to its outstanding tolerance to moisture.